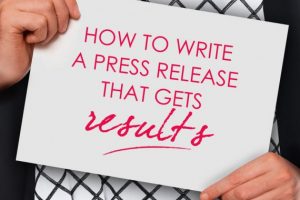 When it's time to launch your product or service, you want to spread the word far and wide. One of the best ways to do that is through a press release; though having to write one may give a product/service innovator pause.
The biggest reason for this? Toiling over the many things you have to say while minding that this is a news piece and needs to be treated as so to be picked up by national publishers.  It's like falling in love with your baby – you could go on for hours, but the rest of the world really only needs to know the differentiators that make your product unique and valuable to the market.
Fortunately, press releases much like many things in marketing are a simple recipe.  Once you know the recipe, you can clear the clutter and get to reporting. Below you will find the 6 ingredients that every press release must have.
Tip 1: The first 50 words must contain the "who, what, when, where, why" of your product or service.
The journalist or editor who receives your press release might only have a small amount of space for your announcement. That's why you should strive to have all the basic information about your product or service in the first 50 to 100 words.
Below you will see a sample of how the "who, what, when, where, why" looks like in a press release.
"[YOUR COMPANY, i.e. "who" of CITY, STATE, i.e., "where"] is proud to announce the launch of your [PRODUCT/EVENT, i.e., "what"] on [LAUNCH DATE, i.e., "when"]. This product [SOLVES THIS PARTICULAR PROBLEM, i.e., "why" ] and represents [your company's] commitment to [your company's mission]."
All that? Less than 50 words. Once that's written you can fill in the rest of the press release, which usually includes a couple quotes on how your particular product/service solves a problem, and how you think your customers will appreciate it. However, the latter half of the press release doesn't matter nearly as much as the first paragraph. Don't forget that.
Tip 2:  Be objective about your product, not subjective.  This is the hard one for all of us that fall in love with our baby.
Your product IS your baby, and the desire to talk about how wonderful it is is completely understandable. However… no one cares. Yup. Sorry. The journalist or editor reading a press release that just talks about how amazing a product or service is, is probably going to debate throwing it in the trash.
Instead, think about how your product benefits your ideal customer.  Talk about what it does and how it works, and how it provides the solution to the problem. Avoid overly outlandish claims of the "best product of all time" and just think of what you would want to read about if you were the customer. Most of the time, you just want to know what a product does, and any over-the-top claims might turn you off for being to sales-y.
Tip 3: Don't just quote yourself. Quote a customer, too.
Press releases often include quotes from the CEO or marketing executive about how excited they are about the launch of the product, which is fine. However, a quote from one of your customers can give instant credibility, especially if they talk about how exactly it worked for them or their business. Everyone knows word-of-mouth is the most trusted and effective marketing tool out there (92% trust referrals from people they know, Nielson), so why not have that in your press release too?
Tip 4:  Provide valuable content to journalists and publishers such as video.
Journalists and publishers are running a business too.  They are looking for compelling and vabaluable content to share with their readers.  Go ahead and give it to them ~ Video continues to be seen as an asset as it is timely and expensive to produce quality video, yet they want it on their network as their visitors eat it up.  Hubspot reports that 92% of mobile video consumers share that video, free marketing for said publisher.  In addition video aides product conversion significantly; 64% of people are more likely to buy a product online after watching a video.
Tip 5:  Ensure SEO value is baked inside.
This is an age old SEO play – get your back links from relevant topics online.  Nothing is more relevant than your own press release on a highly ranked news outlet or publishers' website.  Because journalists are in the business of reporting and not building your brand, they don't do much with your release outside of removing the flowers and bragging rights to merely report their story.  So go ahead and embed your url in your intro paragrah.  Be sure to use http:// before your www domain and this will automatically produce a link when placed on a webpage.  Presto, you get a backlink from every pick up you receive.
Tip 6: Help an editor out by writing the press release in their style.
OK, we're going to let you in on a little secret: Journalists and editors get a LOT of press releases passing over their desk. As in, whatever makes their lives easier gives you a step-up on the competing releases. So if you submit a press release using the tips from above, an editor might be more inclined to give it coverage if they don't have to spend much time editing it.
So that means no outlandish claims. No talk about how it is the best product ever. Just stick to the facts, and most importantly, write it in their style. That's AP style, which shows how to write dates, state abbreviations, titles, etc. You can find the AP style guide on any online bookstore. If you plan to write many press releases, it's an investment.
Do you have any tips for press releases? Let us know in the comments.