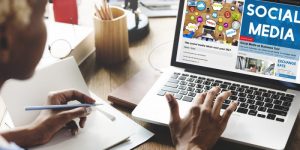 More than 75% of U.S. consumers are on social media. More and more people are seeing their news, videos, photos and advertisements on Facebook, Twitter, Instagram, etc. That means your social media marketing strategy must be one of your top priorities. You have to go where the people are.
So how do you navigate the world of social media and its various platforms? Outlined below you will find best practices that have been tested over the past decade my digital marketing experts.
You Need to Understand Your Audience
In 2017  you should invest in a social monitoring program that gives a good look at what your audience likes, and what they think of you and your product. That way, you can craft messages that appeal to them, as Shane Barker points out in his article Don't Make These 5 Fatal Social Media Marketing Mistakes in 2017. "What are they into? What do they care about? How old are they? Where do they live?" Barker asks. "[The] time spent [figuring that out] reaps big rewards in the long run."
A/B Test Everything
Barker points out the importance of A/B testing by using an example from Pizza Hut. They tested two images — one with a white background; one with a black background — and measured which one did better through social monitoring. They then applied the winning image (see below) to other marketing campaigns.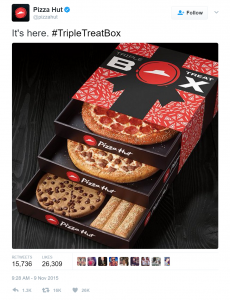 — Pizza Hut (@pizzahut) November 9, 2015
The Same Message Won't Work on Every Platform
What works well for you on Facebook won't necessarily work on Twitter or Instagram. Each audience likes different things: Your Twitter audience likes snappy 140 character tweets; Instagram loves beautiful photos; Facebook likes informative posts that link to great articles. Take the time to craft a message for each platform, based on what each audience likes.
If a Social Media Platform Isn't Working for You, Ditch It Fast
Don't waste time and money if you're not seeing a good ROI on a certain platform. Concentrate on what works.  There is a happy medium here of being hasty versus effective testing and moving forward; as with any marketing initiative, it takes time to build critical mass.  Give any new social platform 6 months to develop your audience and tone.
Make Everything Visual
Stats show that visual content always does better than just a simple link or text post. Infographics or placing text on an image are more likely to be shared and liked/retweeted.  The foundation of this popularity in visual and readable content is rooted in gender related behaviors; men like pictures, women like reading and when you combine the two, you will capture the interest of 100% of your audience.
Don't Make Everything a Sales Pitch
If your posts on social media are just promotions for your product, you're doing it wrong (as the kids would say). Instead, use social media to build confidence and trust in your brand by providing informative tips, behind-the-scenes looks, or telling a story.  This is your chance to differentiate your brand with a personality.  Be a good friend to your customer, provide valuable content that supports your product's personality – not the sale.  Use the 80/20 rule with providing contextual relevance with valuable content 80% of the time and 20% of the time make your content product or service specific.
Interact With Your Followers
Don't be silent on social media. Talk to your followers. Answer questions. Be personable.  Tell jokes (but keep it clean). If your audience skews on the younger end, don't be afraid to poke fun at yourself.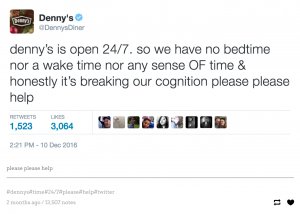 Basically: Consumers like to know there are real people behind the brand, and that helps build confidence and trust.
Follow these tips, and social media can help your business grow in 2017.